National Road Safety Week ( 10th to 16th Jan'16)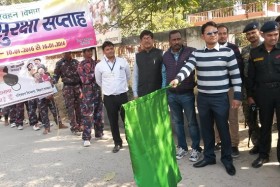 Dated:- 10/01/2016
On the Day of National Road Safety Week, our Aurangabad Bihar Transport Department organized a Campaign to enlighten Safety Precautions for the people.
This campaign is between 10th to 16th Jan 2016.
The day was celebrated in presence of Mr Kawal Tanju (District magistrate, Aurangabad), Mr Ravindra Kumar ( District Transport officer), Mr Ranjeet Kumar( Motor Vehicle Inspector), Mr Om Prakash (R.T.O).
Honorable D.M launched the campaign with Green Flag.
JK & Ravindra Automobiles, TATA Motors Service Station along with all the Team participated the campaign & celebrated with enthusiasm.
DTO Aurangabad has shown his much interest in awakening the Traffic Rules & regulations during the campaign. It was a great day .
Regards
JK & Ravindra Automobiles
Administration.