HCC Customer Meet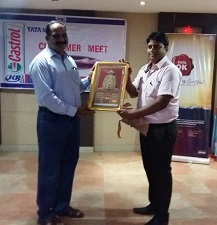 Dated : 05.07.2015
A Customer Meet was organized for our Corporate Customer M/s Hindustan Construction Company Ltd, who is contracting bridge connecting Daudnagar to Nasrigunj. Namely know as HCC.
The day shall be remembered in the chapter of JK & Ravindra Automobiles for their strong bond of relationship with Customers.
All the executives, engineers, Accountants, General Manager were invited in the sole Customer meet dedicated to HCC at Hotel Saraswati Inn, Aurangabad. With lots of fun the evening was celebrated and ended with dinner.
Mr Rao (General Manager) of HCC Daudnagar Project was honored with Deo Surya Mandir momento as memorable event.
Thank you entire team of HCC for your enthusiastic participation and sharing the evening with team JK & Ravindra Automobiles.