Business Campaign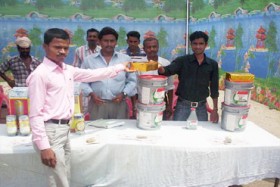 What is the "JK & Ravindra Automobiles" campaign?
The "JK & Ravindra Automobiles" campaign is a consumer education program about the benefits of regular vehicle care, maintenance and repair, designed to provide knowledge from all segments of the automotive aftermarket industry. Integrated marketing and public relations initiatives will build awareness and provide knowledge to aid consumers in making the best maintenance decisions about their vehicles.
Why is the campaign needed?
Consumers are unaware of the inherent dangers and issues caused by deferring vehicle maintenance. The campaign is the automotive aftermarket industry's response to provide unbiased, expert information to help educate consumers on the importance of consistent, timely vehicle maintenance.
What is the goal of the campaign?
The campaign's purpose is two-fold. First is to provide consumers with unbiased, expert information to help them make better decisions regarding their vehicle maintenance, and offer them tools that make the process easy and intuitive. Second, reversing the trend in unperformed maintenance will aid in conserving energy, improving highway safety, benefit the environment and provide economic benefit to both consumers and the aftermarket industry.
Why does vehicle maintenance go unperformed?
Consumer neglect of regular care is a result of a lack of awareness and understanding of the inherent dangers and issues caused by unperformed maintenance, misinformation and misperceptions on what needs to be done when, and lack of reminder mechanisms.
Who is the campaign targeting?
The campaign is targeting the motoring public, including DIY and DIFM consumers who own and/or operate motor vehicles.
Who is responsible for the campaign?
"JK & Ravindra Automobiles" campaign"
New G.T. Road
Aurangabad – 824201
Bihar(INDIA)
Mob No. :- +91- 963 173 2222
Email :- info@jkraautomobiles.com