JK &Ravindra Automobiles provides special facilities in repairing accidental vehicles. We provide special attention in terms of driver medication, Police intimation, Local interference, Vehicle Spot Survey. We provide FREE of COST vehicle toeing Facility* for accidental vehicles.
We have a cashless Tie up facilities with- ICICI Lombard GIC Ltd, HDFC Ergo GIC Ltd, SBI General Insurance Co.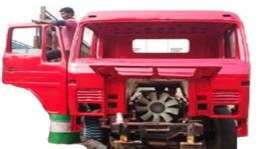 We have dedicated team for handling accidental vehicles. We insure timely delivery of vehicle with quality of Job.
Facilities of Job in Accidental Repair-
All aggregate repairing facilities
Denting & Painting Job
Truck Load body repair facilities
Welding &Machine Job
Chassis straightening facility.
Wiring & Electrical repair Job
Important Documents required for accidental vehicles-
Duly filled and signed claim form
Proof of insurance – Policy copy
Copy of Registration Book
Copy of Motor Driving License of the person driving the vehicle at the time of accident.
Police panchanama/FIR(in case of third party property damage/ Death/ Body Injury/ Fire)
Permit, if applicable
Fitness Certificate, if applicable
Tax Certificate, if applicable
Load Challan, if applicable
Estimate of repairs from the repairer where the vehicle is to be repaired.
Repair Bills/Invoices
Payment receipt after the Job is completed.
(all documents are subject to be verified, inspected by concerned insurance company. Please contact your insurance company for detail information)