AUTOMOBILES SERVIC & SUPPORT

VEHICLE PURCHASE

24 X 7 SUPPORT

VEHICLE SALES
JK & RAVINDRA AUTOMOBILES :: RECENT ACTIVITIES
VIEW ALL -
28 February 2016 by JK & Ravindra Automobiles, in Business Campaign,News & Updates,Recent Activities

Dear Esteemed Customers, I shall like to share my heartiest thanks to all...

READ MORE +

10 January 2016 by JK & Ravindra Automobiles, in News & Updates,Recent Activities,Social Activities

Dated:- 10/01/2016 On th...

READ MORE +

16 December 2015 by JK & Ravindra Automobiles, in CUSTOMER MEET,Recent Activities

Dated : 05...

READ MORE +
JK & RAVINDRA AUTOMOBILES AT A GLANCE
JK & Ravindra Automobiles, situated at Aurangabad(Bihar) is an ISO 9001:2008 Certified Workshop. We are serving TATA Motors customers since 1997. We are the 1st TATA Motors Workshop on NH2. We are the oldest TASS in Bihar.
We are the highest vehicle attending workshop in Bihar with more than 8500 vehicle per year.
We have won several awards for highest Labour Revenue earning, Spare Parts Sale. We were rewarded with Long Term Association award from Mr Sanjeev Garg (Global Head TATA Motors Ltd) at Kolktata TASS Meet in Feb'2013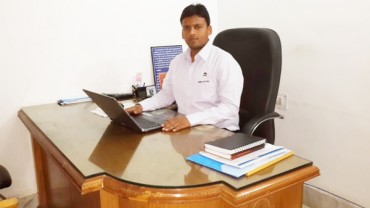 ARUNJAY SINGH (PARTNER)
Our Automotive have been subjected to harsh motoring conditions over the time. Extreme wet and windy weather conditions and salted roads can contribute to adverse effects on vital components in a vehicle. The quick Check will offer peace of mind and give you expert guidance on the condition of your vehicle. If you want to be assured that your engine is in top condition, why not call JK & Ravindra Automobiles and let us carry out a quick Check on your vehicle.
We frequently roll out various schemes and offers for our featured customers.Once you become our registered customer, you starts receiving various offers, you can compare them based on several options such as price, quality parts, the guarantee on parts and service and can take the benefit of the offers.
we can help you save money on your vehicles insurance, roadside assistance, and inspections, and also keep you updated with requests the next time your vehicles needs to be seen for service. Obtain the best deals right now!
WORKING PROCESSIN 3 STEPS
Get your vehicle to our workshop and engineers will fix the issue if you got an issue in a remote area,call our support number .Our mobile automotive vehicle
will reach in no time to fix the issue.
READ MORE +

Workshop strength
We attend 700-800 vehicles a month ( minor, major & accidental)We have a strength of 67 manpower.

Workshop Facility
We have pneumatic Gun facility for opening Tyres. We are equipped with all Tools as per TML Norms.

Service & Support
We are a 24 x 7 workshop.We attend any break down within 3 hours from claim reporting time.

AJAY KUMAR (Managing Director)Casca IT Global Software solutions Pvt. Ltd.
You guys have excellent service . I am very happy with the mechanic who helped us out. Thank you so much JK & Ravindra automobiles and special thanks to the mechanic who helped us promptly.

ARUNJAY SINGH (Partner)JK & Ravindra Auromobiles
In any business or for any product, one of the most important thing is feedback ,an owner or distributor can Improve the quality of its service only when he receives feedback from his clients or customers.We at JK & Ravindra Automobiles request you to send your valuable feedback to serve you better.
WE ARE EQUIPPED WITH MODERN TECHNOLOGY & TOOLS AND WE HAVE FULL RANGE OF PARTS AVAILABILITY.